I'm wishing you a happy New Year and hope you make it a good one! I don't have any really hard-set specific goals (except for moving to a new apartment later in the year), but I do want try and get "Embers to Stars" out on a new platform, maybe Webtoon or Tapastic, but I am not yet sure how and when to do it. Webtoon would be great, but I have to find a way the format works for me.
Anyway, I also wanted to talk about my favourite 4 pieces of 2018, which I thought was a great thing I saw on Twitter. However, I am really having a hard time. For one, I hardly have any fan art from last year. I think I drew Zelda and Aranea and that was about it….
But here we go, let's try this in order:
1)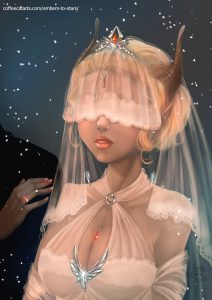 I drew this image of Dawn shortly into the New Year of 2018 and I was just doodling away on my Raytrektab 8″ tablet. I didn't really know where I was going with this, but I wanted to try and draw without lines for once. And I really wanted to draw her in a wedding dress.
2)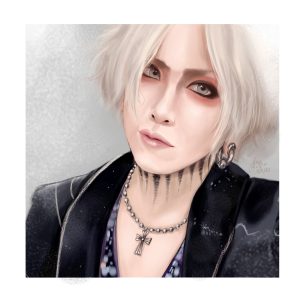 I guess this is my best fan art piece of last year. Also done in January. I hadn't done portraits in forever and for some reason I just wanted to try it. It's by no means perfect and doesn't do the subject justice, but considering it only took me about 4 hours, I think I'm OK with it. Also Instagram images are surely not good for this kind of thing, since there are usually hardly any shadows. So this looks a lot rougher than the original.
3)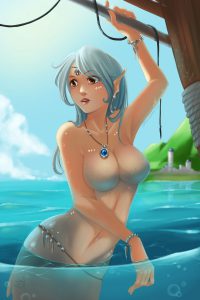 This is the second sharkmaid I drew in 2018 and I just wanted to try drawing something with water, something cute and something to practice different things with. There is no story to her, but I think she makes a good subject to practice different things.
4)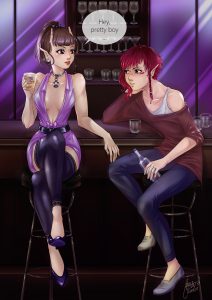 This year, when I wanted to start drawing the interlude for "Embers to Stars" chapter 2, I noticed that I needed a new character for Skye to interact with as he is facing the boss after the messed up assassination attempt. He already had quite the extensive backstory, but something was missing. Along came Liora and suddenly everything made sense. From how he joined the "Rebellion/Society", to how he gained in ranks so quickly. Unlike the other images, I really felt inspired to draw this, because I knew what happened around this scene and why it is so important. I still want to explore their story more and I am quite happy with how this image turned out.
Honorable mentions:
I guess there was some more fan art in the early months, and I really enjoyed drawing Wrench from Watch_Dogs2. The picture of Vien and Dawn is also still one of my favourites and I especially like Dawn's dress.
Also, I tried something new this year, when I discovered MagicaVoxel, which is such a neat and intuitive program to do voxel based modelling in. I really enjoy playing around with it and hope to get back to it a little more this year…although I also really want to get back into Blender, since the new major update is upon us!
Either way, I want to draw more and be more consistent again this year, work on Embers to Stars and progress the story as much as I can.
Wish me luck!
PS: I'm also planning on live streaming more regularly on TWITCH!!!