So for some reason, the shark girl came back to me.
I have been drawing this over the past few days and I really enjoyed it. I started just as with the last one, with quite some loose outlines and this time, I eventually tried to get rid of them. I know some lines are still left, but not many…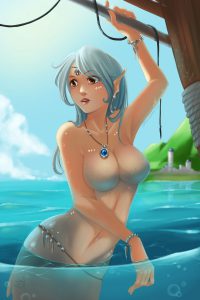 I also wanted to practice drawing skin and body shapes (did I use references for that? Of course not……..>.>), and then water and stuff and that is how it all came together.
There are certainly things that could be done better, but it's not horrible. I think I can leave ir as is and then take what I learned to the next image.
Anyway, I know I should be drawing comic pages, but I am a bit stuck. I know what is supposed to happen, but I'm not quite sure how to portray it. I think that is why I am procrastinating with other things.
Also the past weeks have just been so busy with work and friends and all.
Golden Week is coming up, but I am not quite sure that that's actually gonna help with being productive…meeehhh…
We gotta see…
Either way, I love my Raytrektab. I did almost all of it with it, and just made some minor corrections in Photoshop at the end on my Mac to adjust the colors.
Looking at it now, I accidentally reflected my signature. orz Whatever… lol