I don't know how many more times I can say "sorry for the infrequent updates".
Last week was over in no time and not much drawing was done. A little bit, but not much. At least I got to try a few different time-slots for streaming on Monday, but it didn't really change much. Japan is just bad in terms of time zones.
BUT! You can still follow me on twitch.tv/coffeecat_j !!
Next, the feature of Embers to Stars on Tapas.io has really boosted my subscriber count over the past few weeks and it makes me really happy. I have gotten some lovely comments, which make me even happier, because people like the characters I create. T_____T)
Very happy!
Also, I finally updated the gallery with some more recent portraits and stuff. They are all unorganised and incomplete in terms of characters, but hey, at least there are more images now.
I really enjoy doing cel shading for messy outlines these days. It's just soothing and it gets stuff done quickly. I do want to go back to painting again soon, though.
Liora and Skye are currently not featured in this style, because they took on a life of their own again in this shape…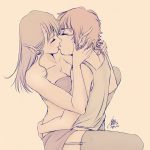 Unbelievable! But I just love it when the are "nice" to each other. I was also developing the lore for the overall story and ended up changing their future. I just love them too much to proceed with what I had originally planned, but with the changes, I think their roles also become a lot more meaningful…at least I hope.
Anyway…I should update more often…I really should.
Read you soon!