Five days into the new year and all is still quiet, but the vacation is almost over.
But I still wanted to upload the New Years cards I drew this time around. Unfortunately it really wasn't worth printing it. I did send out New Years cards, but since it's the year of the doggo, it would have been hard to actually compete with all the recent cuteness everywhere.
So this year it's Dawn and Vien from "Embers to Stars"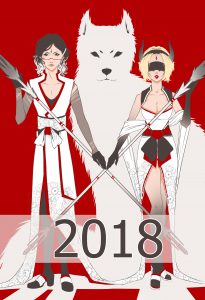 I had this color scheme in mind, but apart from that I just had to improvise a lot. I do like how Dawn turned out, but I think Vien's body is to slim. Oh well. I might give it a little make over some time. I used the hell out if the symmetry ruler for this one again. It's just so helpful when drawing faces from the front.
Anyway, I bought an SD card to move files from the tablet to the Mac, but for some reason the one I bought doesn't work for some reason. Another one I found, just does. So I really don't know what's wrong.
I'll have the bf have a look at it. Maybe he knows.
Anyway, I hope I can get around to drawing more this year. The tablet might help with that.
There are so many things I want to do…
Twirdy Twirdman is one of them, along with going more into concept art….at least that would be nice, but of course I also want to work on Embers to Stars more. I didn't get very far with the second chapter since last year, which is really sad… >.>)
Alright…
I hope everyone is having a great year!